Boun Suang Huea or Boat Racing Festival
Dates: October 3, 2020 or every October at the end of Buddhist Lent
Spotlight: Mekong River in Vientiane, Laos
Declared as a public holiday in Laos, the Boat Racing Festival in the country gears up various teams from around the country in a grand showdown of speed across the Mekong river. Dragon-style boats each carrying up to 50 paddlers representing different villages battle it out in this annual festival that vividly shows the culture and camaraderie of Lao people.
The races happen in a whole day affair with women's competition in the morning and the men's later in the afternoon. Spectators line up along the riverbanks eager to catch a glimpse of the action. Meanwhile the streets leading to the Mekong river are teeming with festive activities from a wide array of street food stalls to tombola games. The parties and loud music drag out into the night as the Lao people celebrate the Buddhist lent culmination.
Communities living around the Mekong river has been doing the canoe race for thousands of years already. Today, the boat racing has mainly become a sporting competition, the highlight of Laos' Boun Ok Phansa or last day of Buddhist lent.
Several boat racing competitions are held across Laos but the one in Vientiane draws the most crowds. The Fa Ngum road along the Mekong river is the center of the activities. Expect a lively crowd of spectators cheering for their community and getting involved in the intense action.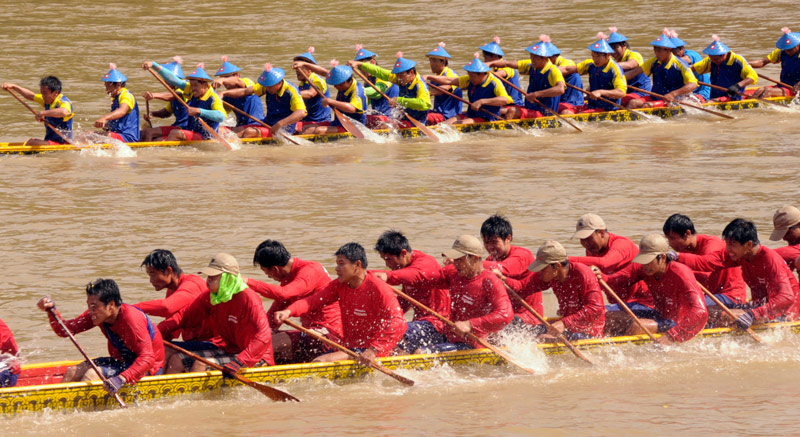 A 2km race across the river challenges the rowers paddling in the boat carved from a single tree. The start and finish line varies each year, determined by the water level. The winning team gets to bag the prize money and the most aspired trophy awarded by high-ranking officials as the whole sporting event is broadcasted live on Lao's national TV channel.
While the boat racing festival is a sporting exhibition, the Lao people also never forgets the essence of the Boun Ok Phansa or last day of Buddhist lent. Rituals are conducted such as offering to temples around the country and at night, candlelight processions with colorful floats decorated with candles, flowers, and incense.